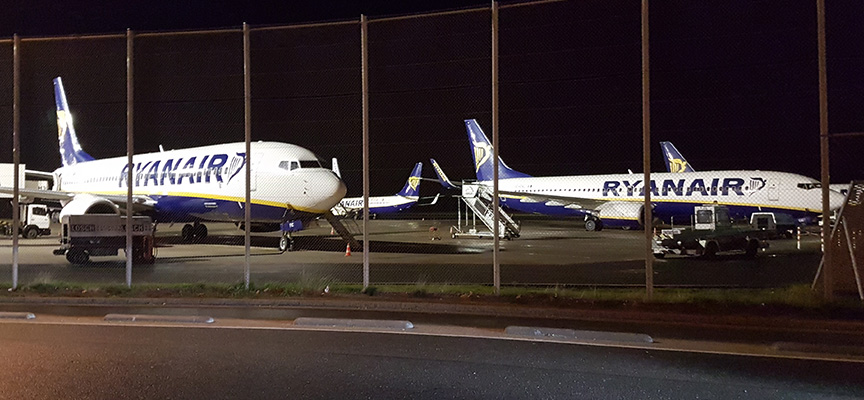 Information about the
Ryanair strike in Portugal
Information about the
Ryanair strike in Portugal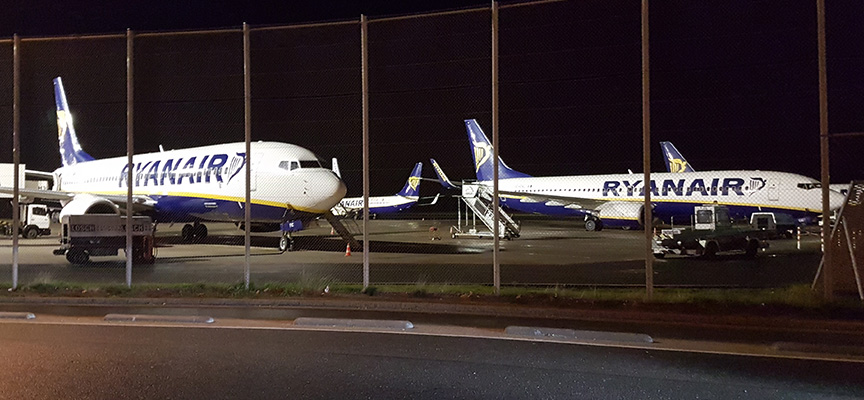 09.04.2018
Dear Colleagues,
during the Easter days the first strike of the Ryanair cabin crews took place.
The Portuguese EurECCA trade union SNPVAC called its members on strike for a total of three days in order to reach a basic agreement for negotiations with the management. Participation in the strike was above expectations, although, as you know, most of the colleagues are employed on fixed-term contracts. The UFO Director for International Relations and EurECCA General Secretary Christoph Drescher, who is a flight attendant himself, took part to support the fellows in solidarity.
After a 91 % successful three-day strike at the four Portuguese Ryanair bases in Lisbon, Porto, Faro and Ponta Delgada, SNPVAC president Luciana Passo urges the Ryanair management to respect basic european principles. That means means that every employee in Europe has the right to get unionized and has the right to negotiate collective labour agreements bargained by the union of their choice.
Luciana Passo, the president of the Portuguese union said: "We are overwhelmed by the courage our affiliates in Ryanair have and this clearly shows their need for decent representation by their union. This includes FTL- conditions, payment schemes and general working conditions. Furthermore, we the SNPVAC ask the management to fully comply with national labour law. We are awaiting fair negotiations with the management to come to a basic understanding of a respectful social partnership and we are looking forward to meet with the management any time soon."
Christoph Drescher added: "I am very proud to show the full support of all member unions of EurECCA for this action. Ryanair Cabin Crew all over Europe deserve the same fundamental rights. The european social model is the foundation of a fair and sustainable relationship between employees and employers; including collective representation by unions. EurECCA will support the coordinative work among the relevant national unions to achieve level- playing- field all over Europe for Ryanair Cabin Crew."
Together we are strong, as the strike in Portugal proved! Legal and working conditions at Ryanair must change! As THE only german union exclusively for cabin crew UFO has a proven track record of getting things done: We negotiate collective labour agreements at Lufthansa, Eurowings, Germanwings, Condor, Lufthansa CityLine - and Ryanair, Germania and SunExpress will be next! Doing so, we ensure that our profession is secured and that being a flight attendant can be a long- time job to do!
Being a UFO-member means free legal protection, compensation in case of strike and many other perks! You can find all the support you get from us HERE, and the form to become a member HERE. Spread the word and tell your colleagues about the pros of being an union member at UFO!
If you have any further questions or would like to talk discretely on the phone, you can always contact our member support manager Alana under a.engelhardt@ufo-online.aero.
We know that there are some confusions about the "Current remuneration level" and the "Progression month", we ask for when you fill in our application form. If you are unsure which informations to fill in this forms, just put in "0".
We also want to make clear, that we are a union for all cabin crew members in Germany. We'd love to welcome flight attendants (who are based in Germany, no matter what your contract says) from every airline to become an UFO member.
Always happy landings
Yours, UFO